We're still in need of Flex developers and QA for an exciting project at Brightcove. In the spirit of Ted Patrick, here's my top ten list for working at Brightcove:
1. First off, I'd like to stress that you don't have to know Flex. Knowing your UIComponents would be helpful, but we're more interested in your ability and willingness to work on a Flex project. In other words, we're interested in athletes more than experts.
2. It's a new project, which means that you get a lot of say on how things work in the development and testing environments. You'll be on the ground floor of a new project and the first floor of a growing company.
3. Work with Flex 2 every day, all day.
4. Work directly with three former members of the Flex team. This includes Sean Neville, who was writing about Flex more than three years ago and me.
5. Work close to a lot of excellent Flex, Flash and Java developers. This includes one of the authors of the AS 3.0 Cookbook, Keith Peters, Flasher extraordinaire Sam Robbins, and a swath of people who've helped build J2EE servers.
6. It's a project that Jeremy Allaire is excited about. He'll come by occasionally and ask about the project.
7. My HR one-liner: Brightcove has a good set of medical, dental, 401k and other benefits.
8. You won't have to see any more posts on this site about the subject. I can't help but try to get more people on board to the project I'm on. Like the threat in an NPR fund drive, you could make the world a better place and help me get back to more insightful posts by working here.
9. Brightcove is all about video, video, video. The online world is currently abuzz with video. Wouldn't you like to work with video?
10. Have you seen the view out of our office at One Cambridge Center in Kendall Square?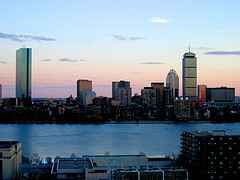 Apply by emailing your resume to resume to work AT brightcove DOT com or finding the job through the career site. And if you have any questions for me, I'd be more than happy to answer them at bdeitte AT brightcove DOT com.