If you want to know more about manipulating images in Flash, I have an excellent new book to recommend. It's Foundation ActionScript 3.0 Image Effects by Todd Yard, a coworker of mine at Brightcove.
I was the technical editor of the book, and I really enjoyed reading it and learned a lot about a lot of AS3 APIs that I haven't used before. It goes over the basic drawing API, blend modes, many other bitmap manipulations, Pixel Bender, the Flash Player 10 3D APIs, a custom (and newly open sourced) animation and effects library, text effects, video effects, and more that I'm sure I'm leaving out. Outside of the book, there's the new library I just mentioned as well as a huge numbers of samples that can be used in Authoring or Flex/Flash Builder.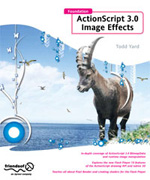 This is in the same series (and a great followup) to Keith Peter's ever-popular Making Things Move book.